Silverbow Country Park
Silverbow Country Park is a countryside holiday park in Goonhavern on the North Cornish coast and is just three miles from the popular beach of Perranporth and a short drive to Newquay, the home of surfing in the UK. Silverbow Country Park is a new addition to the growing number of parks owned by Surf Bay Leisure, a long standing client of Gold Coast Media. Upon the takeover of the park, Surf Bay Leisure asked us to design and build a new web site for the park within a given time frame.
The park itself has historically been a mixture of camping pitches, motorhome and touring caravans pitches with a few lodges on the park. The new owners are changing this so that the park is an 'owner only' holiday park where you buy your static caravan or holiday lodge and can use your holiday home whenever you like over 11 months of the year. There is a growing demand for holiday home ownership in Cornwall for visitors that are not able to afford the very high costs of a second home in the county, or prefer to own a holiday home on a park with the community feeling that brings. The costs for a holiday home on a park tend to be lower as well and you also have the ability to sub let your holiday home to generate an income that covers that costs. The holiday homes are generally new or nearly new so there is very little maintenance or upkeep. All of these factors combined provide an attractive solution for families that want to own their own base in Cornwall for regular or longer term holidays.
The brief for Gold Coast Media was to provide an attractive site that was clear in its message and provided an easy way for potential clients to view a range of static caravans for sale in Cornwall. The primary end point was to have easy to administer holiday homes listed on a single page with clear and concise information that provided an easy to use search base. From that, each individual holiday home should have its own page  with more detailed explanations about the home itself including prices, dimmensions, facilities and a good selection of images. Second to that, the site should provide useful information about holiday home ownership and about the local area in general. This then creates a web site that is relevant and useful for the end user.
The new Silverbow Country Park web site is built using the Drupal platform with several significant benefits over alternative platforms such as Wordpress. The Drupal platform is very secure and is Open Source so that Surf Bay Leiure retain the ownership of the custom code and design for the site. Primarily and of significant importance, is the ease of use for the administration of the site for Surf Bay Leisure. The ease of use of the Drupal system means that it is quick and simple to add and remove holiday homes to the site and to generate information rich, high quality content pages. The site is also search engine friendly which is very important as the majority of sales are generated through organic search engine results.
The aesthetics for the Silverbow Country Park web site are also improtant. Providing a design which is clean and clear, allows the online viewers to navigate to relevant pages that are obvious is paramount. Simple navigation is really significant if a web site is to succeed in the modern online world. With new changes to search engine algorithms, speed is also increasingly important with elements such as defined image sizes now being critical to avoid penalties for serving a web page too slowly. The design of the site using Drupal is also mobile friendly and is tested across several devices using Browserstack. The site is also tested using Screaming Frog to ensure that every page on the site meets the relevant criteria for critical search engine indexing and listing. The end result is a web site that achieves the primary aim, promoting holiday lodges for sale in Cornwall to clients that want to buy them!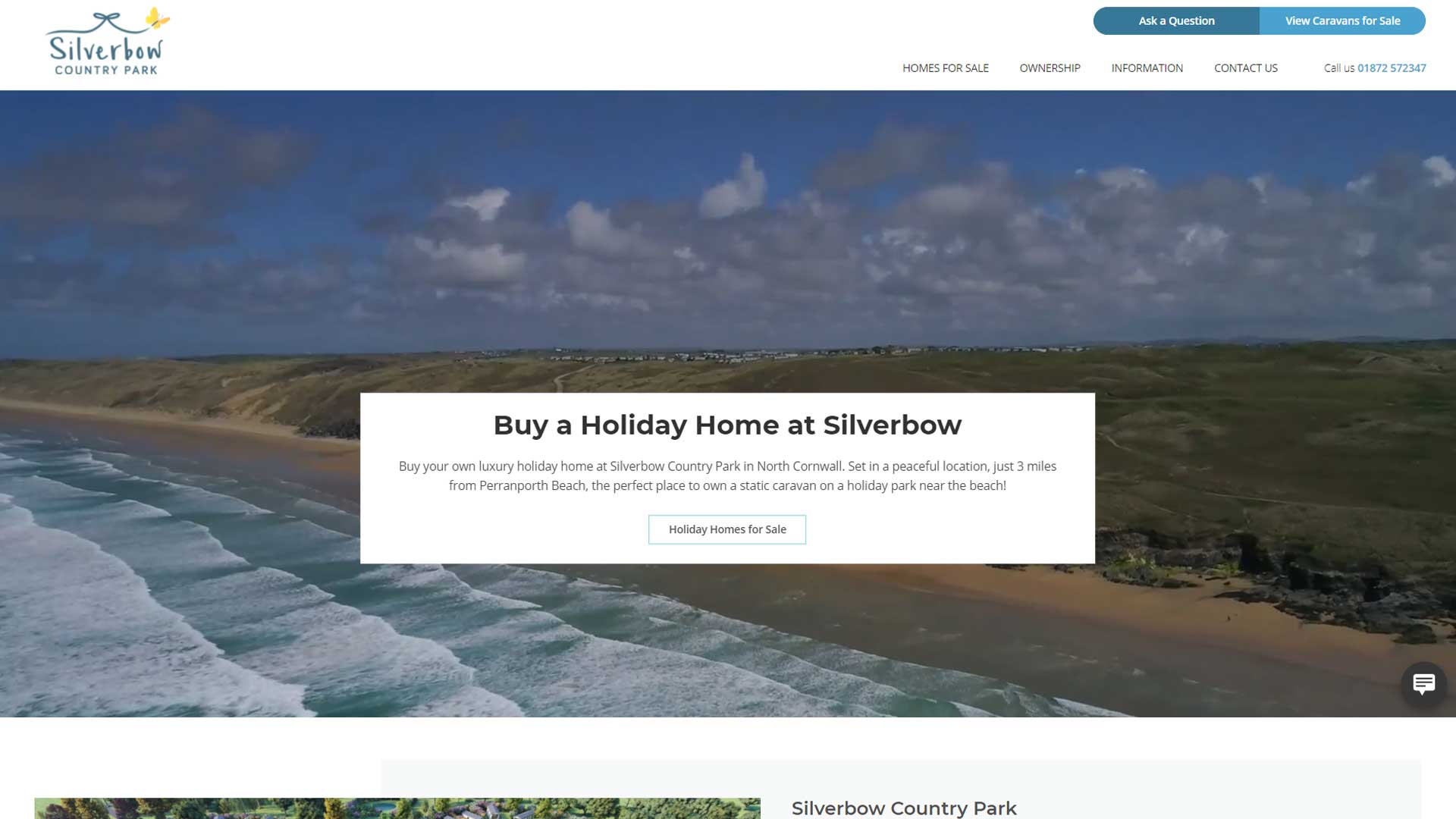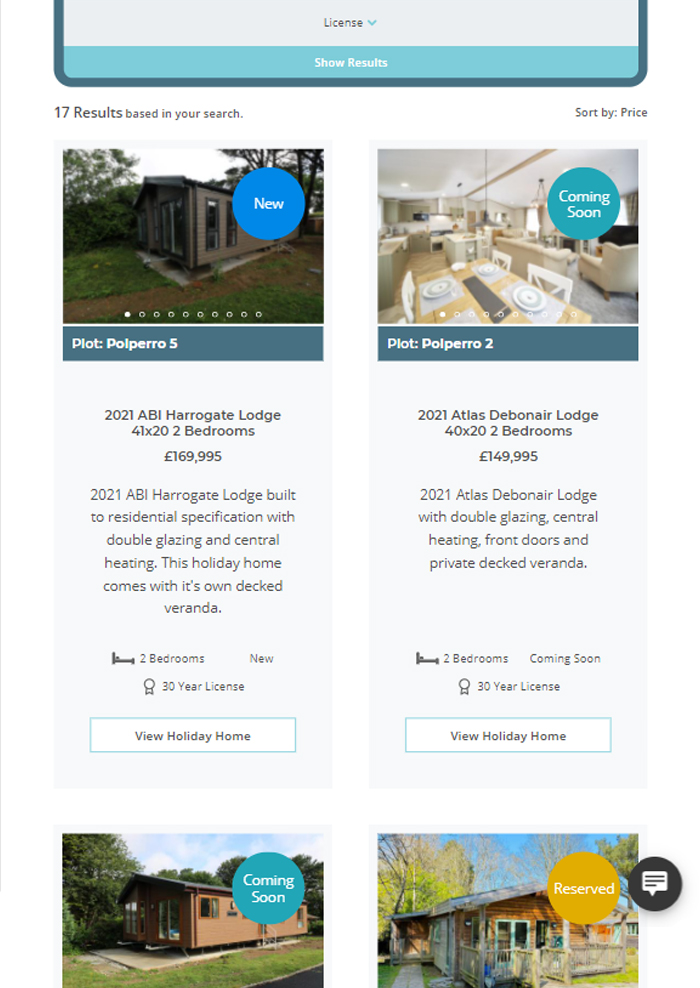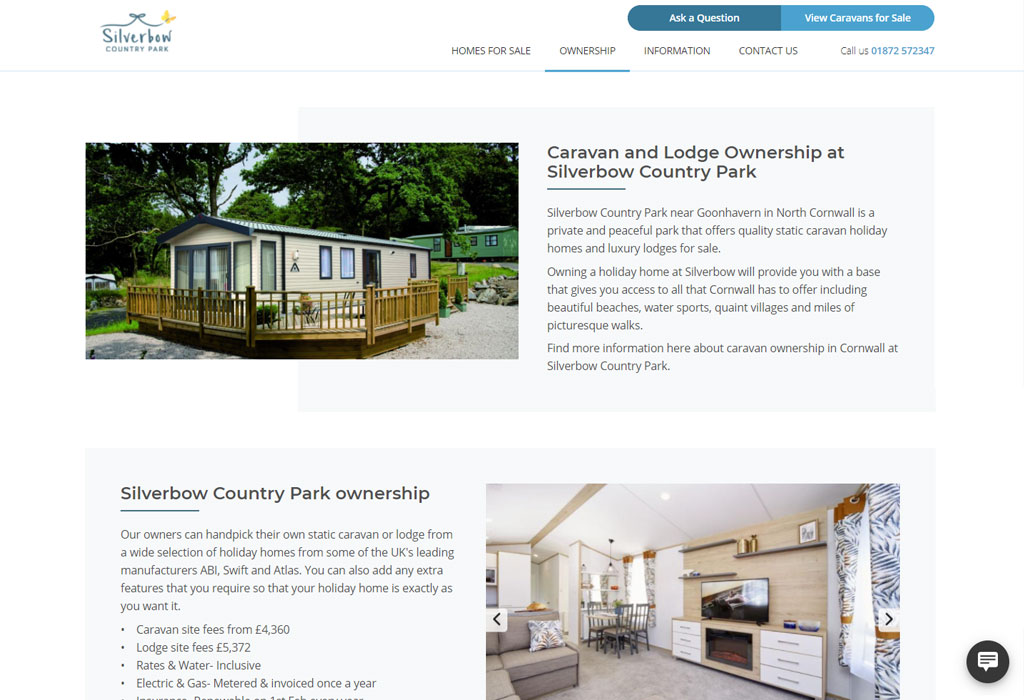 If you have a query or project in mind, drop by. The coffee's always on or give us a call on 07530 075454