Three Duvets
Three Duvets offers a unique solution for those that want an ethically sourced and manufactured duvet, offering different weights of filling on either side of the duvet. If you and your partner prefer different sleeping temperatures, the Three Duvets solution is perfect for you. For example, you might prefer a cold sleep if you suffer from night sweats and your partner may want a warmer sleep. The Three Duvets solution is perfect for you offering a revolutionary modular sleeping system where each side of the duvet has different thicknesses and therefore sleeping temperatures.
There is much more to this unique duvet than just a bespoke weighting solution though. Each duvet is hand made in Devon in a range of sustainable and natural fillings. These include Botanic plant based fibres, British wool and British alpaca wool as well as silk in sizes from double to super king size. All of the materials used are 100% natural and are ethically sourced from sustainable resources that are fully traceable.
This website is built in a bespoke design that reflects the custom made product. It offers a simple procedure that allows the user to order a custom made product following a clear step by step process. Making the purchasing journey simple is the key element in creating a successful ecommerce website that converts visitors into customers.
The Three Duvets website is built on the Magento 2 ecommerce platform with a range of additional modules to offer the design and the functionality that the customer and the business need and desire. Magento 2 is one of the most powerful and popular ecommerce systems in the world and offers a range of functionality that make it popular with growing businesses that want control over their own website with the ability to offer functionality and bespoke designs that other platforms fail to deliver.
Magento 2 is an Open Source platform, this means that the code is shared across developers worldwide and is not owned by a development agency, this protects your business. As this platform is so well supported, there are modules that have been built to cover nearly all requirements making it a great platform to grow a business long term at a low cost. This flexibility in code base allows you to build a website without the restrictions of non Open Source platforms in a secure and powerful platform.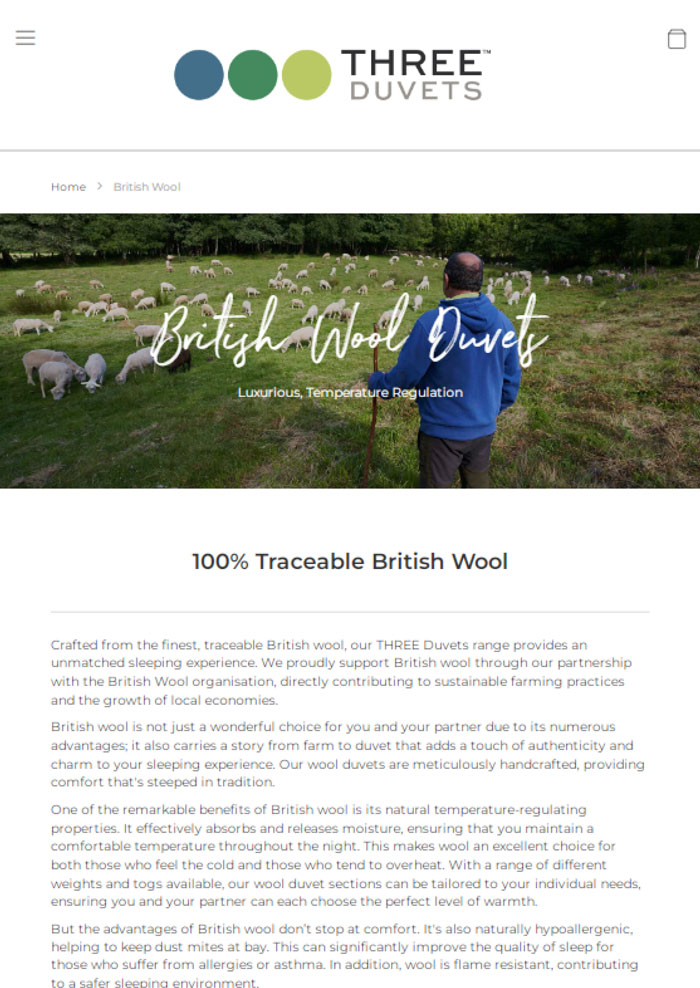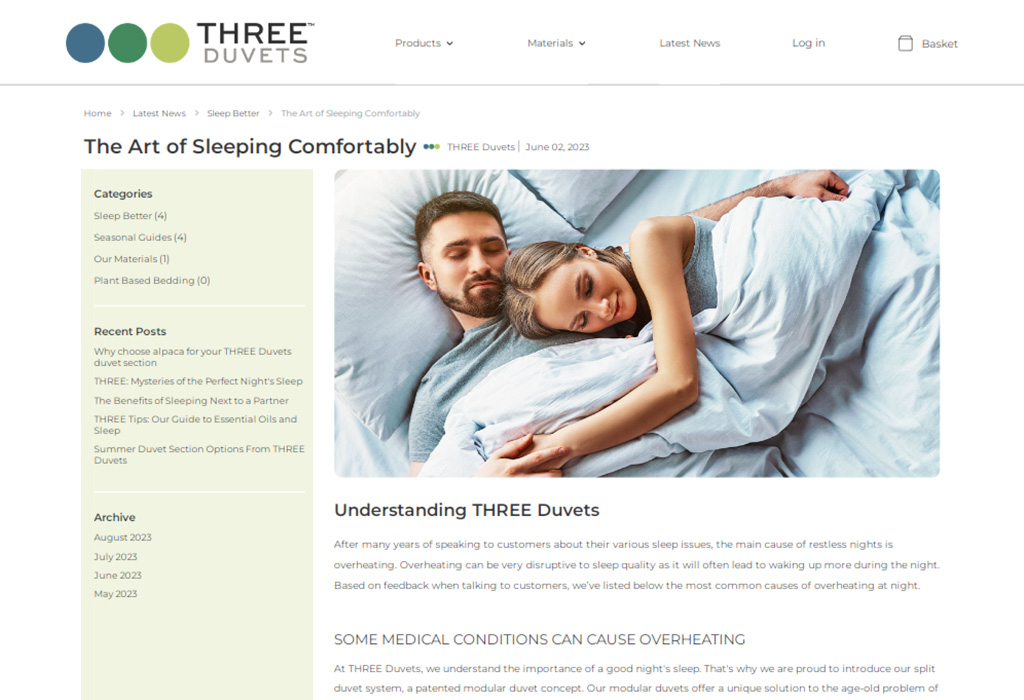 Gold Coast Media truly transformed our online presence. They have gone above and beyond our expectations in crafting a bespoke website that not only showcases our unique THREE modular duvet system, but also simplifies the customer experience. Our modular duvet system is one-of-a-kind, and we were grappling with the challenge of making it crystal clear to our customers how they could select and purchase modules specific to their needs and effortlessly assemble them into a complete duvet. Gold Coast worked closely with us and quickly understood our difficulties. Their solutions not only improved the overall clarity of our product but also made the purchasing process user-friendly, removing the barriers that once stood in the way of seamless purchases. They blended aesthetics with functionality, resulting in a website that not only looks fantastic but also functions flawlessly. Working with Gold Coast was a pleasure. They communicated effectively, met deadlines, and gave continuous support during and after project completion. We fully recommend Gold Coast to any business seeking expert website development services. Their ability to understand your business, tackle complex challenges and deliver a professional website is exceptional. We are very grateful for their dedication and innovation and look forward to a continued partnership with them.
If you have a query or project in mind, drop by. The coffee's always on or give us a call on 07530 075454